The Bondsman™
The Bondsman is a Windows based system designed to track and keep all records necessary to meet State requirements for the bonding industry.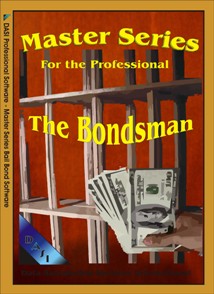 Key Benefits
Easy to install and setup. Runs in a Windows environment!
Single entry system. You only enter the information one time!
In-expensive and great support!
Features
Enter all information from the Powers/Bond screen
Supports digital camera to maintain a photo record of the defendant
Prints all the necessary reports for your Surety Company (If required)
Prepares court notification letters automatically and daily to be mailed out
Supports both the Agency and General Agents requirements
Automatically calculates premiums, the build-up fund & fees owed to the surety and general agent
Supports multi-office locations
Calculates due dates for forfeitures & judgments; plus prints a report with that information
Security to protect unauthorized entry into the system
Keeps track of Indemnitor and their collateral
Keeps track of outstanding powers/bonds and who they are issued to (General Agent)
Keeps track of outstanding powers/bonds for the Agency
Reports
Agents Receipt of Powers/Bonds
Agents Register of Powers/Bonds
Agents Execution Report
Active Bond Report
Agents Discharge Report
Monthly Bond Activity Report
Forfeiture Report
Daily Bond Register
Judgment Report
Court Notification Letter
Court Notification Report showing phone contacts
History Report for all Bonds written for defendants and/or indemnitor
Prints Promissory Note
Prints Bail Bond Application Form
Powers Inquiry - Look-up information by name, power number, address, etc...
Was starting at only $1,495.00
Buy it NOW for just $995.00
Includes 90 days FREE Help Desk Assistance. Unlimited telephone assistance.
Additional pricing plans and on-going Help Desk Assistance plan available.
For additional information, Submit an Inquiry.